Review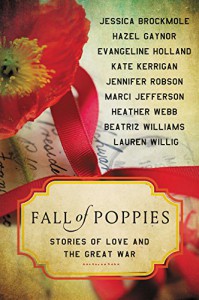 I received this book for free through the Reading Room's giveaways.
Like most short story collections, I liked some stories more than others.
The Daughter of Belgium; I thought this was a solid first story. It wasn't super romantic but it got me excited for the rest of the book.
The Record Set Right: I liked this story but I was so confused at first. I had a hard time figuring out how everyone was related and what happened in the past. But once I got to the end, I understood it.
All for the Love of You: This was my favorite story. It was so romantic. Plus I learned a lot of about the masks that were made for soldiers with damaged faces.
After You've Gone: I didn't love this one but I did appreciate the fact that it was the only story with people of color.
Something Worth Landing For: This was written by Jessica Brockmole who I am familiar with. I read her book Letters from Skye and loved it. This story also features letters. Overall, this was another solid story.
Hour of the Bells: This story was different because it was about love between a mother and her son. It felt a bit out of place in the collection.
An American Airman in Paris: This was written by Beatriz Williams who I am also familiar with. I read her book, The Secret Life of Violet Grant. Both that book and this story talk about sex frequently. This story by far had the most frank discussions about sex out of all the stories. I honestly didn't like this story. I just couldn't connect with it.
The Photograph: I really liked this one. This story focused on the British's occupation of Ireland during WWI, which I liked because it offered a different perspective on the war.
Hush: I also really liked this one. The author (Hazel Gaynor) did an amazing job. It was so beautiful to read.
Overall, I liked how these stories showed what it was like living through WWI. It highlighted the fears that young men had when they went off to war, as well as the struggles civilians had to go through.